Cheap Websites Package Starting At $199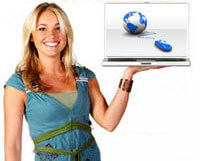 For those without a big budget, we have the perfect affordable web design package to get you started under $200. We call it our cheap Websites package, but rest assured the final result will not look cheap, it will be a high quality mobile-enabled custom website.
If you are in the market for a new website, you have probably received some outrageous price quotes from other web design companies. Our cheap website design packages are a perfect solution for those who only need 3 pages or less to get their business on the Internet and exposure in the search engines. Just because we use the word cheap, does not mean we sacrifice any quality in designing a solution for you.
The Basic Package would be a good choice for those looking for a simple, yet professional online presence. This inexpensive web design package will provide you with a quality website that can be easily expanded as your demands grow.
What's Included
Complete Website Setup – We will build you a custom mobile-enabled website to your specifications. We put your site on a private link on the Internet that only you know about during construction, once completed 100% to your satisfaction, we then post the site on your domain name.
We start out with the design concept, once you approve your design, we then begin to build in your content for the pages. You are able to request edits/revisions throughout the entire process, either by phone call (preferred) or by email. Once you approve the site, we will then post it live. It is not until this time that payment is due.
Basic Custom Design – We will walk you through all of your affordable design options regarding color, layout, graphics, ect. so your site is designed the way you want it designed.
Up To 3 Pages Included – We will build up to three pages of content for you. All content and images for your site can be submitted to us using a document or you can just send your content in an email.
SEO For 3 Pages – We will optimize your site with up to 5 keywords you want to be found by in search engines as well as target cities for local area searches.
Contact Form – We will build in a contact form with 4 custom inputs (Name, Email, Phone, Comments ect.) and styling to match your website. Upon submission of the form, it will route to any email(s) of your choice.
Social Media – We'll add social media icons that will link to all of your social networking presence online.
Logo – We can build your existing logo into your website. Don't have a logo yet? We can design a basic logo for you as part of this package. If you are needing a high end logo done, we can get you a quote for a custom logo.
Google XML Sitemap – We will include a Google XML Sitemap that will assist your website get added to Google faster. When you make updates to your website, Google and other search engines will automatically be pinged and encouraged to crawl your website quicker.
This package also includes a responsive design, which means your website will automatically adapt to mobile devices as well as tablets. Responsive web design is a web design approach that provides optimal viewing across a wide range of devices. a Responsive website can accommodate desktop computer monitors, tablets, and mobile phones. This is very important because statistics say that 50% of web site visitors nowadays are on a mobile device and that number is going up rapidly.
Common Questions
What if I need more than three pages?
Everything we build is scalable meaning we can easily build onto your site down the road. We charge $15 – $25 for each additional page depending on how much content and revisions are needed until approved by the client.
Do you help with text content and pictures?
Well, we do not know your business as well as you do but we do have a creative writing team who will assist as part of the setup process to ensure all of your content is grammatically correct and spell checked. For photos, we recommend www.123rf.com for a very affordable gallery of photos for all industries.
 To learn how to get started on the cheap websites package, simply fill out the free quote form to the right and we will email you all of the instructions to get started. Remember, with Internet Solutions For Less, you do not pay until you are 100% satisfied with your website.